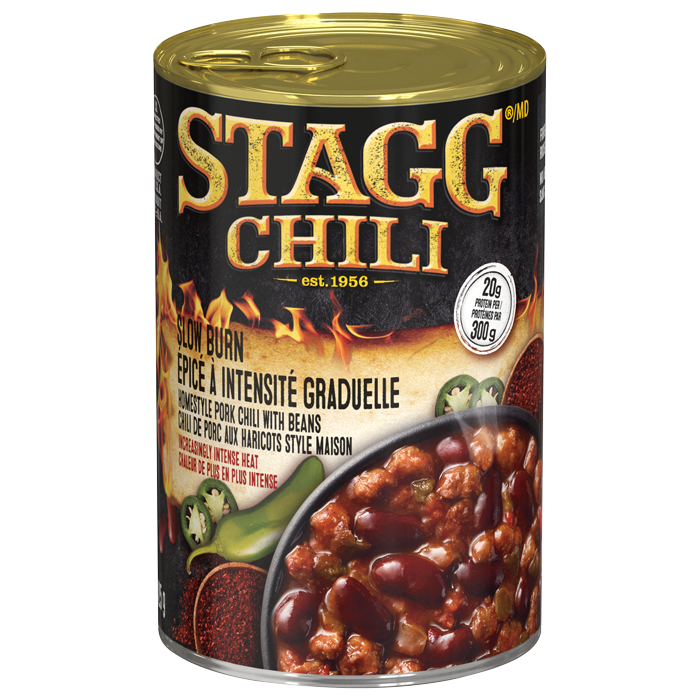 STAGG® CHILI
STAGG® SLOW BURN Homestyle Pork Chili with Beans
STAGG® SLOW BURN Homestyle Pork Chili with Beans is packed with flavor. The intensity of the heat builds up with every spoonful. This Chili is slow simmered to perfection with homestyle pork meat balls, plump kidney beans, and a signature blend of spices.
Ingredients & Allergens
Ingredients: Water, Pork, Kidney beans, Tomato paste, Dehydrated onions, Modified cornstarch, Sugar, Jalapeno peppers (salt, acetic acid), Spices, Salt, Dehydrated bell peppers, Dehydrated tomatoes, Flavours, Yeast extract, Chile de Arbol flavour, Citric acid, Vinegar, Silicon dioxide, Soybean oil, Paprika.
Ingredients : Eau, Pore, Haricots rouges, Pate de tomates, Oignons d8shydrates, Amidon de ma·is modifi8, Sucre, Piments jalapeno ( sel, acide acetique ), Epices, Sel, Poivrons d8shydrates, Tomates d8shydratees, Saveurs, Extrait de levure, Saveur Chile de Arbol, Acide citrique, Vinaigre, Dioxyde de silicium, Huile de soya, Paprika.
Nutritional Information