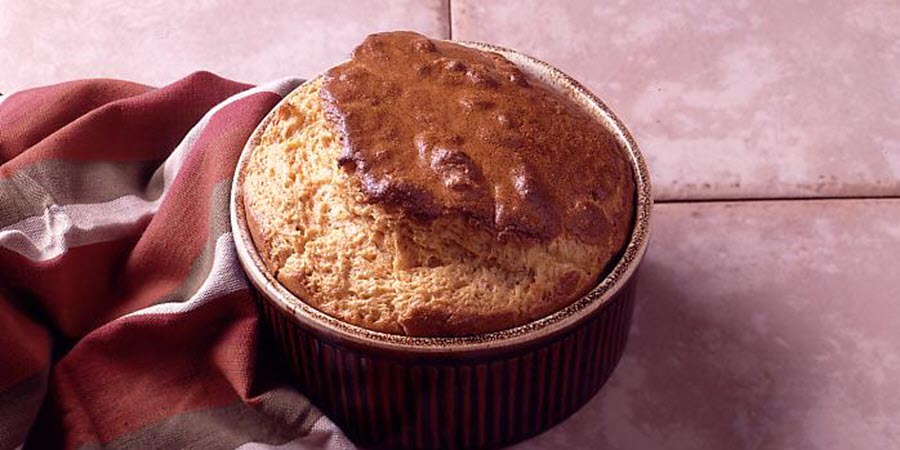 Ranch House Chicken Chili and Cheese Soufflé

servings
8

Calories per Serving

Prep Time
Under 30 Minutes

Cook Time

Total Time
1 Hour
Ingredients
3 tablespoons (90 mL) butter
2 tablespoons (16 g) all-purpose flour
1/2 teaspoon (2 g) salt
1/2 teaspoon (2 g) dry mustard or spicy mustard
1/2 teaspoon (2 g) ground red pepper (cayenne)
1/2 teaspoon (2 g) ground nutmeg
1 cup (125 g) evaporated milk
1 (425 g) can STAGG® Southwest Style Chicken Chili
1/2 cup (60 g) grated Cheddar cheese
3 large eggs, separated
Directions
Heat oven to 350°F. Grease 1 1/2-quart soufflé dish.
In saucepan, melt butter. Add flour, salt, mustard, cayenne and nutmeg; stir until smooth. Gradually add evaporated milk; cook and stir over medium heat until thickened. Add chili and cheese; remove from heat. Stir until cheese is melted.
In small bowl, beat egg yolks. Slowly pour egg yolk mixture back into chili mixture, stirring briskly. In separate bowl, beat egg whites until stiff peaks form. Carefully fold chili mixture into egg whites.
Pour chili mixture into soufflé dish. Bake 35 to 40 minutes or until soufflé is puffed and golden.